The United Kingdom may be known for its kings and queens, football teams, and fish and chips, but across the British Isles, churches have made a lasting impression on the culture and architecture of the country.
Here are 10 of the finest abbeys, churches, and cathedrals that you can see while visiting the United Kingdom.
1. Marvel at St. Paul's Cathedral, an impressive example of English Baroque architecture.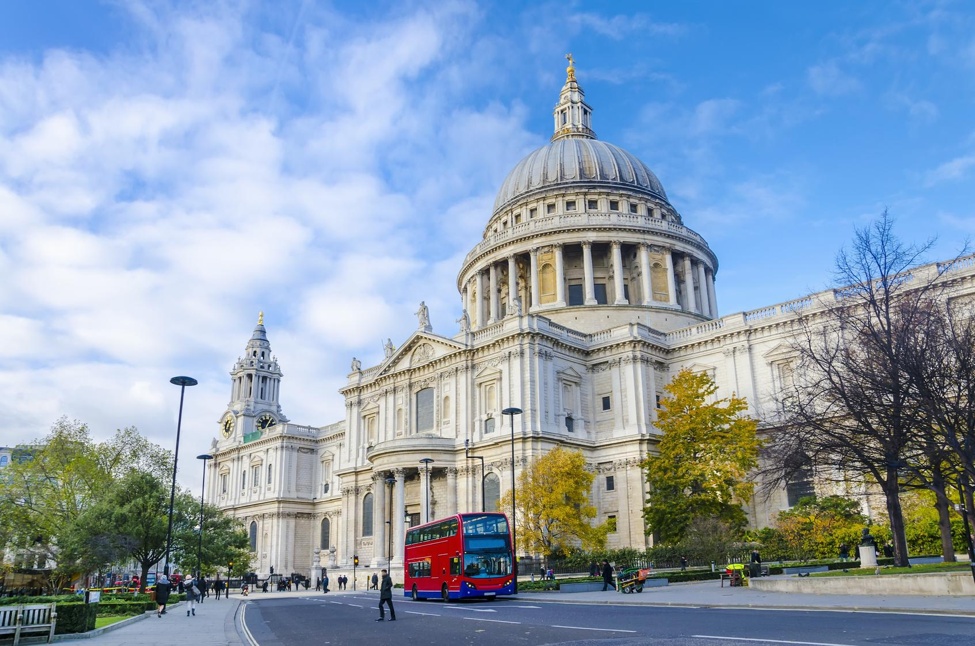 St. Paul's Cathedral has quite an extensive history. The first version of the church was founded in 604 AD. But due to viking violence and ferocious fires, the church was rebuilt time and time again. Finally, in 1087, the longest-lasting church structure was constructed, and would remain for over 600 years.
By the 17th Century, the church was falling apart. Many architects were brought in to figure out how to best rebuild the church. And then, in 1666, the Great Fire of London destroyed most of St. Paul's. Christopher Wren, England's most famous architect, created a blueprint of a cathedral with a dazzling dome—the dome that you still see during your visit today. The cathedral famously survived being destroyed in World War II and was a symbol of hope.
2. Witness Westminster Abbey, where queens become queens and royals are wed.
Arguably the most famous church in the United Kingdom (and maybe the world), Westminster Abbey holds a long history of coronations, jubilee celebrations, and royal weddings. In fact, it has held every coronation since 1066. Many notable people are buried there, including Elizabeth I, Isaac Newton, and Geoffrey Chaucer.
Westminster Abbey regularly holds services and all are welcome. These include choral Evensong at 5pm on weekdays and 3pm on weekends. Tours are given Monday through Saturday, but not on Sundays and religious holidays. However, services on those days are free and open to the public. The newest initiative is Wednesday Lates, where you can tour the Abbey for half-price on Wednesday evening and enjoy a meal in the cafe.
3. Learn about the history of Methodism in Wesley's Chapel.
John Wesley was an Anglican minister who had a life-changing experience on May 24, 1738. He described the event in his journal:
"In the evening, I went very unwillingly to a society in Aldersgate Street, where one was reading Luther's preface to the Epistle to the Romans. About a quarter before nine, while he was describing the change which God works in the heart through faith in Christ, I felt my heart strangely warmed. I felt I did trust in Christ, Christ alone for salvation, and an assurance was given me that he had taken away my sins, even mine, and saved me from the law of sin and death."
As the number of lay-preachers grew, he was required to register them as non-Anglicans in 1787. Wesley's Chapel was built in 1788, designed by the architect George Dance. It's an excellent example of Georgian architecture. John Wesley's home is next door, and is a fascinating place to learn more about Wesley's life and ministry. Tours also include the
Bunhill Fields Burial Ground, across the street, where you can see graves of non-conformists such as William Blake, Daniel Defoe, John Bunyan and Susannah Wesley.
4. The Round Church of Cambridge is now a Christian Heritage Center.
One of Cambridge's most beloved landmarks is now the Round Church, formally known as The Church of the Holy Sepulchre Round Church. It was built in 1130 as a replica of the Holy Sepulchre Church in Jerusalem and is one of only four round churches in England.
It houses the Round Church Visitor Centre, which includes a display about Christian history in the UK, an excellent movie (Saints and Scholars), and guided tours of Cambridge.
5. See the church pastored by John Wycliffe, who translated the Bible into English.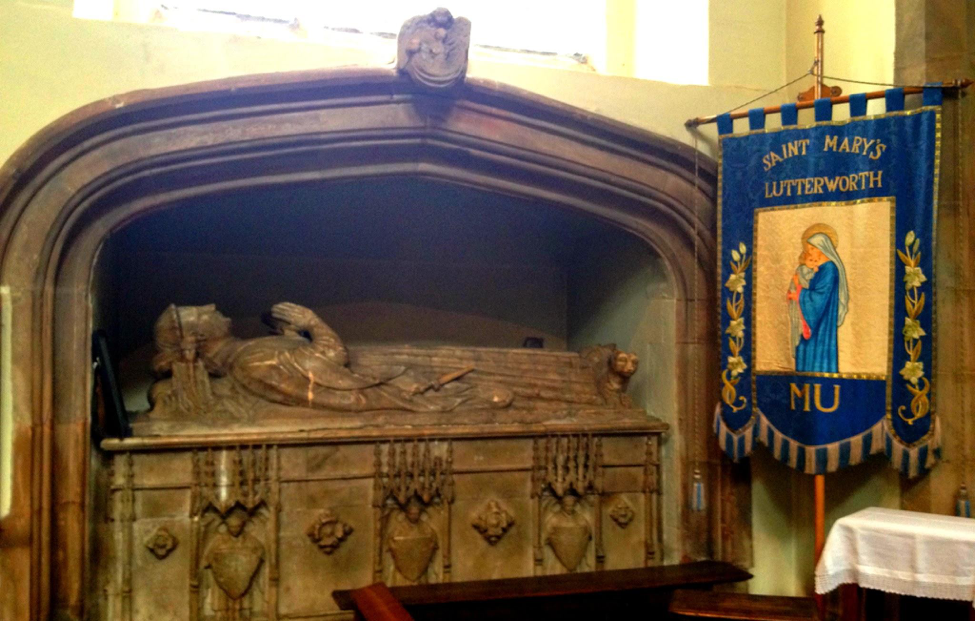 St. Mary's, the church of John Wycliffe, is in the small town of Lutterworth, north of London. In the 14th Century, John Wycliffe was the first person to translate the Bible into English from Latin. William Tyndale also translated the Bible into English—the difference was that his version was translated from the original Hebrew and Greek.
Wycliffe's Bible made the Lord's Word accessible for everyone, not just the scholars and clergy. John Wycliffe trained "poor preachers" who lived a simple life and travelled around the countryside teaching the Word of God to the common folk of England in their own tongue. They were called Lollards.
St. Mary's is still an active church today and can be toured whenever visiting the Leicestershire region, and groups can have tea and cake if requested in advance.
6. Durham Cathedral is considered a UNESCO World Heritage Site.
No, that's not Hogwarts you're looking at (though they did film some scenes here!). It's Durham Cathedral, an outstanding example of Norman architecture and UNESCO World Heritage Site.
Built in 1093 to house the shrine of Cuthbert, Durham Cathedral originally served as a monastery for Benedictine monks. St. Cuthbert had ministered in the Northeast of England and had died on the Island of Lindisfarne. Durham and Lindisfarne make a great tour combination.
The new exhibition experience Open Treasure showcases the Cathedral's fascinating history and heritage, allowing access to some of the most intact medieval monastic buildings in the UK, including a fourteenth-century Monks' Dormitory, and a monastic Great Kitchen.
Visitors always enjoy seeing the Lego model of the cathedral, for which £10.9m was raised by purchasing Lego bricks during the 3 years of construction. There are some fun Lego videos sharing the history of the cathedral.
7. Tour one of the finest medieval buildings in Europe—York Minster.
The earliest form of York Minster was a wooden church, quickly constructed in 627, for the baptism of King Edwin of Northumbria. While it was soon replaced with a stone structure, a fire later destroyed it, and no one knows its exact location.
Around 1080, the Norman Minster was built, but this version was also destroyed, only to be rebuilt in 1472, which began the basis of the structure that can be seen today. The Reformation did alter the structure of the church in some ways, including the destruction of St. William's shrine.
Over the centuries, the Cathedral went through massive changes, both inside and out. From Protestant to Catholic to Protestant again, the church was ever changing. One thing that never changed—how spectacular of a building it truly is.
8. Iona Abbey catalyzed Christianity's spread in Scotland.
Off the northwestern coast of Scotland lies the Isle of Iona. In 563 AD, an Irish monk, St. Columba, came to the island and founded Iona Abbey as a monastery. But beginning in 795, vikings continually attacked the island, murdering monks and destroying the abbey many times over. It is said that the Book of Kells may have been started by the Columban monks, who escaped to Ireland during these attacks.
After the Reformation, the abbey was left in disarray. It wasn't until 1899, that the ruined abbey was considered as a location for the Church of Scotland. These days, the church exists as a place of worship and popular pilgrimage site.
9. The Church of the Holy Rude isn't trying to be insultive—"rude" means cross!
Yes, at first, the name of this church might seem a little… different. But in Scotland, it's actually quite normal. There's even "Holyrood" in Edinburgh, meaning "holy cross" as well.
The Church of the Holy Rude was founded in 1129 during the reign of David I. However, this church was almost completely destroyed in 1405 due to a large fire. Over time, it has been rebuilt, with different parts constructed over the many centuries. Scottish coronations have taken place in this church as it is connected to the castle, and it is one of the only churches still in use that has hosted such royal ceremonies. In 1566, the infant James VI was baptized, and John Knox preached the sermon. James VI, son of Mary Queen of Scots, grew up to be James 1 of England, and sponsored the King James Bible.
Interestingly, this church spent many years divided into two parts, East and West. In 1656, the congregation built a huge wall that ran across the width of the church, as a result of an argument between Rev. James Guthrie and his assistant. The church had two congregations led by two priests. In 1936 the dividing wall was finally demolished and the church was restored.
10. St. Giles, in Edinburgh, once was the church home of John Knox.
One of the city's most famous landmarks of Edinburgh is St. Giles, situated on the Royal Mile, half-way between Edinburgh Castle and Holyrood Palace. A church has existed on this spot since 854 and it was officially founded in 1124. The church is named after St. Giles, a hermit in France, who was apparently wounded when a local king shot a deer that Giles had befriended. Deer motifs can be found in the carvings.
Scotland became a Protestant country in August 1560, and John Knox was persuaded to come out of exile to be the minister. He was responsible for removing the medieval altars. The Church of Scotland is presbyterian in government, and St Giles' Cathedral is often called the Mother Church of World Presbyterianism. There are regular services, including the St. Giles at 6 program of music on Sunday evenings.
Do you want to see these houses of worship?
Do you see yourself visiting these amazing churches of the United Kingdom? Be sure to get in touch for more information on seeing them on tour. Or if you aren't quite ready to commit, but would like more information, sign up for our free email series. We invite you to browse our Current Tours  to find a tour to the UK that fits your dates.
Social Share