Reformation Tours is a unique specialist Christian company that is dedicated to encouraging believers through church history-inspired travel. We'll show you Europe from a Christian perspective- a continent full of history and charm – and show you where men and women of faith gave their all to preserve the truths of faith, stand up against the decline of the church and bring the Bible to ordinary people.
• Do you want your travel to be inspiring as well as enjoyable?
• Do you want to know about the places you are going to and why they are important?
• Do you want the privilege of fellowship with believers in other lands?
• Do you want time to reflect and pray and not just rush from site to site?
• Are you looking for quality and great service?
Wonderful! Our company is here for you, offering fully customizable tours for any size group. Click here to send us an e-mail and tell us how we can help you on your way to exploring your Christian heritage.
About the company owners
Hi! My name is Frank Drinkhouse and my wife Rowena and I are excited about Christian Travel!
Here are some family photos with our children, who have joined us on many of our trips and done research in various countries on their own too (They are pretty adventurous!). Rosie is 26 and is finishing her law training in Colchester, UK. Josh is 23 and works in Troy, NY.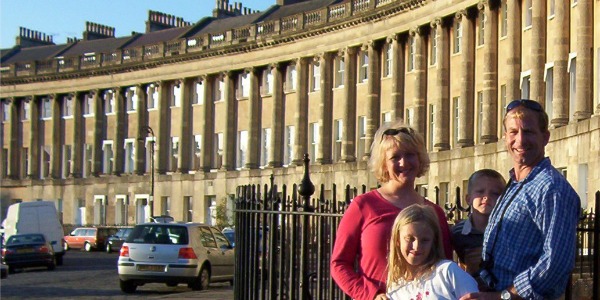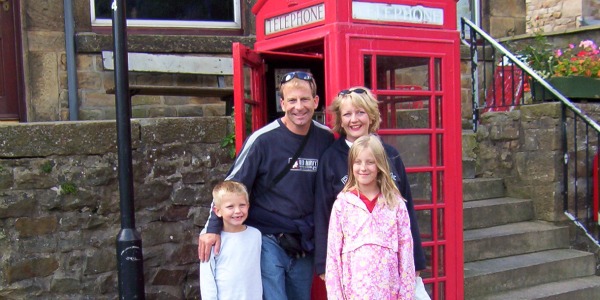 Like many of you, I enjoy visiting Europe (I even met my wife Rowena there!) and the history of these countries really fascinate me. There's an amazing sense of the continuity of Christianity when you sit in the calm of a Cathedral that took centuries to build and has had worshippers for countless generations.
Our aim is to serve the Christian community with tours that show the splendors of Europe, make Christian history come alive and enable fellowship opportunities. As Christian Author and Professor Irving Hexham comments "The legacy of the Christian faith takes on immediacy and impact as you see firsthand the places where believers through the centuries lived and died, shaping our world with their faith." On our tours, you'll see places where heroes of the faith, such as Luther, Zwingli, Calvin, Wesley etc lived and ministered. They were ordinary men and women excited about an extraordinary God, whose lives have impacted generations of believers.
As a family we love to travel. We had the amazing privilege of spending several years in a Turkish Village on the shore of the Aegean, just two hours away from Ephesus. We could see the Greek Island of Cos from our sunny balcony. Yes, it was gorgeous! Our extensive travels have included working with Christian groups in England, Belgium, France, Greece, Spain and Turkey. We've also enjoyed vacationing in many of Europe and America's most interesting and beautiful places, such as the peaceful evocative Isle of Mull, the secluded village of Hallstadt and Paris during Bastille Day.
Our extensive experience in the travel business includes several years in Turkey, where Frank was the Sales and Marketing Director with leading Turkish companies, as well as designing and operating tours. We also operated an international guest house in Turkey, with visitors from as far afield as Korea, Albania, the USA and Sweden. Our hotel experience also includes working with Sheraton, Best Western and Adam's Mark Hotels in the United States.
We will be delighted to introduce you to local Pastors on your tour, such as Pastor Wolff at St. Nicholas's Church in Leipzig (famous for the prayer meetings that precipitated the fall of the Berlin Wall.) That's an amazing story by the way!
We are officially endorsed by Mayflower 400, the German National Tourism Office, the Swiss Tourist Office and the Visit Britain Britagent program. Due to our personal relationships with tourism offices and city leaders, we are able to ensure customized extras on our tours.
We are covered by the industry standard Errors and Omissions insurance, issued by Berkeley. We are members of the National Tour Association and the Better Business Bureau of Eastern Missouri and Southern Illinois. My wife Rowena is the Chair of the Faith Travel Association's Advisory Board. We are also very involved in our church, serving in Sunday School and greeting.
Frank Drinkhouse
President of Reformation Tours