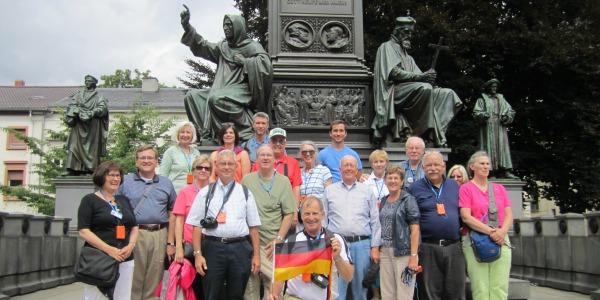 We are delighted that you are considering a tour with Reformation Tours and we look forward to serving you!

Terms Used:
a) 'Reformation Tours' is the trading name of Reformation Tours LTD. Its registered office is at Hall Gate House, 39A Cranfield Road, Kilkeel Co Down, N. Ireland, BT344LJ and is incorporated in the UK with limited liability. Company registration number: NI624149.
b) The 'client' is the person or persons who have/have made a confirmed booking with Reformation Tours Ltd.
c) Your statutory rights are not affected by the Terms and Conditions.
Deposits & Booking Acceptance
1.1 A deposit of $350 per person (unless otherwise stated) is required upon registration, along with a completed registration form to confirm the booking. All rates quoted are per person, in US Dollars, based on two persons sharing a room. Single supplements are available where applicable. Rates are based on tariffs and exchange rates in effect at the time of printing and are subject to change without notice. Balance of payment, or final payment, must be received by Reformation Tours at least 90 days before the tour departure (unless otherwise stated). A $25 fee will be charged on all checks returned unpaid. It is the full responsibility of the traveler to check the accuracy of the dates on their travel documents.
1.2 Reformation Tours accepts a booking only when our agents have either received a deposit and confirmed your booking by email if your booking is made more than 60 days in advance of your tour departure or when we have received payment in full and confirmed your booking by email if your booking is made less than 60 days before your tour departure. No tickets will be issued until full payment has been received.
1.3 On receipt of payment as detailed above, subject to availability and at our discretion, Reformation Tours will reserve the client a place on a trip. A contract is only made between the client and Reformation Tours upon confirming your booking and our communication with either you or our travel agents.
1.4 It is a condition of your booking being accepted that each client signs (or has signed on their behalf if under 18) our Terms & Conditions, which includes a waiver of liability, a copy of which will be available to you as part of your online registration. "Sign", in this instance, refers to your electronic signature.
Payments & Reservation
2.1 Payments can be made online by ACH or credit card (3.5% surcharge). Checks, made payable to "Reformation Tours", can be sent to 12316 244th St, Chisago City, MN 55013-9688. You will receive an email confirmation of payments. Please check your spam folder. 
2.2 The client is fully responsible for checking the accuracy of the dates booked upon receipt of their travel documents.
Cancellation
3.1 A client's booking cancellation must be notified in writing or email to Reformation Tours.
3.2 Cancellations must be received in writing by 5:00 p.m. Central Time on the last business day of the applicable time period.
3.3 Please refer to your specific tour for details, as not all cancellation penalties are the same. If a cruise is included in your tour, special cancellation penalties dictated by the cruise line may apply. Please refer to the cancellation penalties imposed by the particular cruise line. It is the client's responsibility to read and agree to these terms and conditions at registration.
3.4 Cancellation charges are calculated on the day when Reformation Tours receives written notification by email to info@ReformationTours.com or by mail to Reformation Tours, 12316 244th St, Chisago City, MN 55013-9688. The Table below shows the days before departure dates that Reformation Tours receives written confirmation of cancellation and the percentage of tour fare, including any surcharges that will be imposed on the client as a corresponding cancellation charge.  Please note that in addition to the tour fare cancellation charges set out below, the client may also incur cancellation fees for any third-party suppliers booked by the client in association with a Reformation Tours Tour.
3.5 Since we incur costs in canceling your travel arrangements, the following scale of charges will be payable. Insurance premiums and amendment charges are not refundable in the event of cancellation.  References to the deposit include all sums paid or payable at the time of booking.

| | Days Before Travel | Cancellation Penalty |
| --- | --- | --- |
| If the client cancels | From sign-up until 100 days before departure | $150 |
| If the client cancels | Between 99 and 30 days before departure | $350 + any non-refundable fees |
| If the client cancels | Less than 30 days before departure | No refund |
3.6  Transferring Bookings: You can transfer your booking to another person, who satisfies all the conditions that apply to this booking, by giving us notice in writing at least 7 days before departure. Both you and the new traveler are jointly liable for paying all costs we incur in making the transfer. Additionally, an administration charge will be made of $50 per person for requests made more than 61 days before departure and $100 per person within 61 days before departure.
3.7 For flight-inclusive bookings, you must pay the charges levied by the airline concerned. As most airlines do not permit name changes after tickets have been issued for any reason, these charges are likely to be the full cost of the flight. If you request to change all names on a booking, this will be considered a cancellation and a new booking and full cancellation charges will apply.
3.8 Roommates' canceling can result in a single supplement charge for the roommate. The Participant who cancels will be responsible for that charge if a substitute roommate cannot be found.
3.9 Once the tour has started, no refunds will be made under any circumstances for any unused sectors or sections.
3.10 If the client's insurance policy covers the reason for the client's cancellation, the client may be able to claim under that policy; this is entirely a matter between the client and their insurer.
3.11 Trip Cancellation and Interruption Insurance is strongly recommended.
3.12 If the client wishes to change to an alternative departure date, this must be done with a minimum of 10 days' notice. Any changes will be subject to a $100 administration fee. Any charges or non-refundable deposits paid to third-party suppliers are payable by the client in these circumstances.
3.13 It is important to enquire for full details of cancellation terms at the time of booking and cancellation. You must ensure that you have appropriate travel insurance for your needs. We would strongly recommend that this includes but is not limited to, cover against loss of deposit and cancellation fees. In light of Covid 19, we also encourage you to consider the 'cancel for any reason' cover.
3.14 Reformation Tours cannot assume responsibility for any additional costs or fees relating to the issuance and/or cancellation of air tickets or other arrangements not made through Reformation Tours.
Changing your vacation due to Covid-19
We will have no liability for any refunds, compensation, costs, expenses or other losses of any kind incurred by you (including, where applicable, the cost of medical treatment), in the following circumstances:
a) If you or anyone in your booking party test positive for Covid-19 and have to quarantine for a period of time or are notified or otherwise become aware that you have, or suspect you may have, come into close contact with someone who has tested positive for Covid-19 (or where they otherwise suspect they may have Covid-19) and has to self-isolate for a period of time.
If you or anyone in your booking party test positive for Covid-19 within 14 days of your departure date, you must contact us, as you may be unable to travel. We will offer you the following options, subject to availability:
Postponing your vacation to a later date. We will notify you of any impact on the price the postponement may have (please note that you may have to pay full cancellation charges on some elements of your vacation, such as the flight, as well as any increase in cost imposed by other suppliers);
If not everyone on the booking is affected, you will have the right to transfer your place on the vacation to another person nominated by you, subject always to the requirements of clause 3.2
Canceling your vacation, in which case our standard cancellation charges will apply as of the date of cancellation by you. You may be able to claim these costs back from your travel insurance provider.
If you, or anyone in your booking party, test positive for Covid-19 whilst you are on your vacation, please notify your tour leader/us immediately. We will provide such reasonable assistance as we can in the circumstances. However, we will not be responsible for covering the cost of any curtailment of your vacation, missed transport arrangements, additional accommodation required, or other associated costs incurred by you. You must ensure you have travel insurance that covers these costs.
b) You fail any tests, checks or other measures imposed by a supplier, airline, port or airport, border control authority or other government body or local authority or fail to submit for testing or assessment when requested. As such, you are denied entry to board the flight, entry to the destination, access to the services, or otherwise unable to proceed with the vacation or that portion of the vacation.
During your vacation, you are responsible for complying with any official guidance from governments or local authorities in any host country. You also acknowledge that the suppliers providing your vacation, including airlines, hotels and excursion providers, must comply with national and/or local guidelines and requirements relating to Covid-19 and have implemented specific measures. We do not expect these measures to impact your enjoyment of the vacation significantly, and all measures will be taken to secure your safety and those around you.
Air Transportation
4.1 If the tour price includes round-trip air transportation, it will be economy class.
4.2 If you require upgraded seats, you must inform your Reformation Tours contact, and we will endeavor to acquire upgraded seats. The client will pay for any additional costs incurred.
4.3 Airfare is non-refundable once paid.
4.4 Any cancellation, itinerary change or failure to use confirmed space will be subject to penalties levied by the airline at the time of ticketing. The client will pay these penalties.
4.5 Airfare and airline schedules are subject to change without notice. The client will pay any additional costs incurred by the airline.
4.6 You are welcome to book your airfare independently and to use your air miles if you prefer. However, we ask that you wait until the tour is a guaranteed departure to avoid penalties.
4.7 Reformation Tours cannot be held responsible for any changes made by airlines for flights that are booked independently from the group.
4.8 Reformation Tours will endeavor to accommodate, within reason, the needs of clients who have booked airfare independently of the group if said flights are delayed, changed or canceled. However, the tour will continue as scheduled, with clients paying for additional transfer costs to join the group if said flights are delayed, changed or canceled.
Frequent Flyer Miles
5.1 If you wish to use Frequent Flyer miles as part of the group air, you must provide your frequent flyer numbers and the associated airline when booking.
5.2 Reformation Tours cannot guarantee that the airline used for group flights will be the client's Frequent Flyer miles.
5.3 Once you have received your air tickets, you can contact the airline for frequent flyer miles credit. This can be done by phone or in person at the airport. 
Travel Insurance
6.1 Your ticket price does not cover your travel insurance.
6.2 Reformation Tours strongly recommends that the client purchases comprehensive travel insurance cover for cancellation, medical expenses, personal accident, personal luggage, money and public liability before travel.
6.3 The client should ensure that any activities undertaken during the Tour are covered by their insurance; in this regard, please note that certain activities may require specific insurance. It is a matter for the client to ascertain the position with their insurer before partaking in any activity.
6.4 Reformation Tours reserves the right to refuse admission to a passenger unless the client has arranged appropriate insurance.
6.5 Reformation Tours accepts no responsibility for loss or personal damage to personal belongings or liability for personal injury/death.
Not included in Tour Price
7.1 Unless otherwise noted in the tour description, travel insurance, tips for your tour director or tour driver, and gratuities on cruise ships are not included.
7.2 Passports, visas, laundry, beverages and food not on the regular tabled hotel menu (these items will be billed to you before leaving the hotel or restaurant), as well as all other items of a personal nature, are the travelers' responsibility.
7.3 The above fees/taxes are subject to change without notice.
Tickets
8.1 Bookings can only be used by the client to whom the booking was issued; no other person can use the booking in any circumstances.
Travel & Health Documents
9.1 A valid passport is required for all travelers and must be valid for SIX months beyond the return date.
9.2 It is the sole responsibility of the passengers to check with the appropriate consulates and medical personnel to determine if visas are required and what health precautions and documents are necessary.
9.3 The Operator accepts no responsibility for failure to notify travel participants of customs and immigration laws or health requirements.
Travelers Needing Special Assistance
10.1 Any disability requiring special attention must be reported to Reformation Tours at the time of booking.
10.2 Reformation Tours will make reasonable attempts to accommodate the special needs of tour participants with physical disabilities but is not responsible for any denial of services by carriers, hotels, restaurants and other independent suppliers.
10.3 Motor coaches are not equipped with wheelchair ramps. We regret that we cannot assist tour members in walking, dining, or getting on and off motor coaches. Motor Coach Company and other carrier employees may not physically lift participants or assist them on or off transportation vehicles.
10.4 A qualified companion must accompany travelers who need such assistance.
Baggage
11.1 Porterage for one suitcase is included in the tour price unless otherwise specified.
11.2 Due to limited coach capacity, each passenger may bring no more than one medium suitcase plus carry-on luggage. The baggage must weigh less than 50lbs.
11.3 Extra baggage or excess weight will carry a surcharge and shall be paid to your tour manager.
11.4 International air carriers may also impose fees for excess weight.
11.5 Reformation Tours accepts no responsibility for loss of or damage to luggage or any other personal property. Travel insurance is strongly recommended.
Traveling & Appropriate Conduct
12.1 The client must observe the laws and regulations of the countries visited, including customs and foreign exchange restrictions. If the client does not, they may be asked to surrender their Reformation Tours ticket, which may be canceled without a refund.
12.2 In the interest of safety, there may be times when the Reformation Tours representative must decide. It is a condition of booking that the client must comply with the authority and decisions of the appointed Reformation Tours representative. If the client does not comply with the Reformation Tours representative and is not compatible with the general enjoyment and well-being of the other members of the tour, Reformation Tours reserves the right to exclude the client from continuing the tour. In such a case, Reformation Tours will not be liable for any refund, compensation or additional costs incurred by the client. Reformation Tours cannot accept responsibility for the behaviors of others on tour or for any activities that are curtailed as a result.
12.3 To ensure congenial membership, Reformation Tours reserves the right to accept or reject any person as a tour participant and to expel any participant whose conduct is deemed incompatible with the interest of the tour group.
Changes by Us
13.1 Any price increase will be notified to Reformation Tours agents and on our website. Reformation Tours will endeavor to remove all out-of-date promotional material.
13.2 Reformation Tours reserves the right to reduce the price of any of our tours. The final price applicable will be confirmed to the client before the client makes a booking.
13.3 Reformation Tours itineraries are deliberately flexible, and the requirements of individual groups and clients will be facilitated.  Reformation Tours reserves the right to vary, modify or cancel any itinerary, either partly or wholly.  Itineraries published are sample itineraries only and may be amended without notice. Reformation Tours also reserves the right to use alternative vehicles to those advertised to facilitate the final size of any group.
13.4 In the event of cancellation of a tour by Reformation Tours, Reformation Tours will offer a full refund of the tour price only, less any non-refundable elements or alternative travel arrangements to all clients booked onto the tour.  In these circumstances, Reformation Tours will pay no incidental or consequential expenses.
13.5 If access to any country or area is prohibited for reasons beyond Reformation Tours's control, the client will be entitled to a refund only if Reformation Tours cannot offer substitute services of an equivalent standard. The refund amount will be calculated pro-rata based on the total number of tour days and the number of tour days already travelled.
Weather Conditions & Unforeseeable Circumstances
14.1 The client accepts that certain activities and aspects of Reformation Tours tours are weather dependent and that Reformation Tours cannot be held responsible for weather conditions.
14.2 Reformation Tours will not be deemed in breach of these terms and conditions or otherwise liable to you because of a delay in performance or nonperformance of any of its obligations under these terms and conditions to the extent that any such delay or nonperformance is due to any Unforeseeable Circumstances. 'Unforeseeable Circumstances' means any circumstances beyond the reasonable control of Reformation Tours, including without limitation acts of God, pandemic, terrorist activities, insurrection, explosion, flood, tempest, forceful wind, fire or accident, war or threat of war declared or undeclared, sabotage, civil disturbance, labor strikes, requisition, sickness, quarantine, government intervention, weather conditions, volcanic ash clouds and unforeseen circumstances.
14.3 If Reformation Tours and/or any of its Suppliers are affected by Unforeseeable Circumstances, they shall be entitled to and may, in their sole discretion, vary or cancel any itinerary or arrangement in relation to the tour. Regarding civil unrest, once Reformation Tours has investigated the prevailing situation, as it deems fit, it shall remain in Reformation Tours's sole and absolute discretion whether to commence or proceed with a tour.
14.4 In the event that a tour has to be canceled due to Unforeseeable Circumstances, then the client will be offered an alternative tour at no extra cost.  If this is not possible, the cancellation policy in paragraph 3 above will be applied.
Vacation Details, Conditions and Complaints
15.1 Reformation Tours tours are physically active, with varying levels of demands and fitness requirements depending on the specific itinerary and duration of the tour. By booking your tour, you represent that you do not have any physical or other conditions that would create a hazard for you or other Participants or affect other people's enjoyment of the tour. If you have a physical or medical condition, dietary restriction, or other condition that will require special attention during the tour, you must inform us in writing when the booking is made. We may require a medical certificate if you have a unique condition. We reserve the right in our sole discretion to accept, decline or remove anyone from a tour (at departure or during the tour) who we judge incapable of meeting the tour's physical demands.  You must complete a waiver as detailed above before the commencement of the tour, confirming your understanding of these circumstances and confirming your physical and medical condition. Please be aware that participation in each activity is a matter for the client on a day-to-day basis during the tour.  If you do not want to participate in a particular activity, please let the Reformation Tours Representative know.
15.2 Reformation Tours assumes no responsibility for any medical care provided to you. You agree to assume all medical care costs and related transportation provided to you during the tour.
15.3 The client is responsible for all travel arrangements and costs to/from the point of commencement/conclusion of the tour.
15.4 It is the client's responsibility to ensure they have a valid passport and all visas, permits and certificates required for your selected tour, as well as any vaccinations and to comply with all applicable laws.
15.5 The client agrees that Reformation Tours may take photographs and films of the client while on tour and that these may be used in Reformation Tours brochures and/or advertising without obtaining further consent or payment regarding such photographs or films.
15.6 Should the client have a complaint regarding the tour, they should inform the Reformation Tours representative during the tour. If the matter cannot be resolved after the representative's best endeavors to do so during the tour, the client's complaint should be made in writing within 28 days thereof so that it can be investigated. Reformation Tours will not consider any claims made after the 28 days period. If the client writes to Reformation Tours online, please include a home address to reply to in writing.  Please note that if you attempt to address a situation on your own without using this notice procedure, you assume responsibility for any added costs you may incur and forfeit any potential refunds.
15.7 This contract and all matters arising thereunder shall be governed by the laws applicable in Northern Ireland and the courts of that jurisdiction.
15.8 If any provision of these terms and conditions is held invalid or unenforceable by any court of competent jurisdiction, that provision shall be deemed to be rewritten to give effect to the same purpose within the permitted limits of the law. The validity and enforceability of the other provisions shall not be affected.
15.9 If the client is unsuccessful in any legal action instituted against us, the client agrees to pay all our costs, including, but not limited to, legal costs.
15.10 Clients must be aged 18 years and over, but Reformation Tours may, at its absolute discretion and in exceptional circumstances, give confirmation of acceptance of a person outside this age restriction, subject to the signing of a waiver on behalf of the client by a parent or guardian and any other conditions that Reformation Tours may deem appropriate.
15.11 You agree that the sole remedy for any default by Reformation Tours arising under this agreement shall be the return of the paid tour cost.  To the maximum extent permitted under applicable law, Reformation Tours shall not be liable for any special, consequential, indirect, incidental or other damages arising out of or in any way connected to this agreement, including lost profits, whether such damages arise in contract, negligence, tort, under statute, in equity, at law or otherwise, even if Reformation Tours has been advised of the possibility of such damages.  You expressly waive any right you may have to recover such damages.
No Smoking/Vaping Policy
16.1 Reformation Tours operates a no-smoking/vaping policy on all its vehicles. Smoking is not permitted on transatlantic flights. We also do not allow smoking on the bus, in hotel rooms or during group meals.
Responsibility – Please Read
17.1 Reformation Tours LTD, Hall Gate House, 39a Cranfield Road, Kilkeel, Co Down, BT34 4LJ, referred to as "the Operator", acts as an "agent" for you in making arrangements for tour services offered in this brochure, including transportation, sightseeing and hotel/lodge accommodation.
17.2 Reformation Tours and its employees use expert third-party suppliers to arrange flights, tours, transportation, sightseeing, and all other services related to the trip.
17.3 Reformation Tours does not own, manage, operate, supervise, or control any transportation, vehicle, airplane, hotel, restaurant, or other entity that supplies services related to the trip. All tickets, receipts, vouchers, etc., are issued subject to the terms and conditions specified by each supplier.
17.4 Reformation Tours will pay each supplier well before the tour date and must abide by the cancellation terms.
17.5 Reformation Tours is not responsible for a supplier's failure to pay a refund or for supplier bankruptcy or insolvency.
17.6 Our air carriers, hotels/lodges, motor coaches, and other tour services suppliers are independent contractors. They are not principals, agents, employers, employees, masters, servants, representatives, partners or joint venturers of the Operator or its affiliates.
17.7 Please note we cannot accept liability, provide refunds or pay compensation where the performance of our contractual obligations is prevented or affected, or you otherwise suffer any loss, injury, death, inconvenience or damage due to circumstances amounting to "force majeure". This means any event or circumstances which we or our suppliers of the services in question could not foresee or avoid. Such events and circumstances may include acts of God, actual or threatened, war, insurrection, riots, strikes, civil action, decisions by governments or governing authority, technical or maintenance problems with transport, changes of schedules or operational decisions of air/transport carriers, terrorist activity or the threat thereof, industrial action, natural or nuclear activity, epidemic, pandemic, illness, physical injury, quarantine, medical or customs or immigration regulation, delay, or cancellation, adverse weather conditions, fire and all similar events outside our control.
17.8 All certificates and other travel documents for tour services issued by the Operator are subject to terms and conditions specified by the supplier and to the laws of the countries where the services are rendered.
17.9 If the services included in the tour cannot be supplied or there are changes in an itinerary for reasons beyond the Operator's control, the Operator will arrange for comparable services when possible. The tour participants will pay any additional expense, and the Operator will refund any resulting savings to the tour participants. No further claim for reimbursement shall apply.
17.10 Reformation Tours reserves the right to accept or reject any person as a tour participant, to expel any tour participant from the tour, to make changes in the itinerary whenever the Operator deems it necessary for the comfort, convenience or safety of the tour participants, and to cancel a tour at any time.
General
18.1 The booking conditions detailed herein and the Waiver of Liability contain the entire contract between the client and Reformation Tours. No representation, term, warranty or condition can be expressed or implied by reference to any other writing, advertisement or conversation. A duly authorized Director of Reformation Tours may only vary this contract in writing.
18.2 The client's contract is with Reformation Tours as the tour operating company. At any time and at Reformation Tours's discretion, we may nominate to the client in writing any other company or person to have the benefit of some or all of those provisions of this contract, which Reformation Tours may then specify as if the client had agreed to the provisions directly with that company or person in the first place as well as agreeing to them with Reformation Tours. Reformation Tours may, at its complete discretion, assign all or any rights and liabilities arising under or by virtue of this or any other contract with the client.
18.3 All bookings with carriers and other service providers (including but not limited to providers of accommodation, activities and food) are subject to the terms and conditions and limitations of liability imposed by those carriers and other service providers. Please note that some of these limit or exclude liability in respect of death, personal injury, delay and loss or damage to baggage. Whilst Reformation Tours cannot accept any responsibility for any loss as a result of such actions or as a result of any act of omission of any such third parties, Reformation Tours will give every assistance to the client in helping to resolve any reasonable dispute.
18.4 Many accommodation arrangements referred to in the brochure are provided independently by third-party accommodation providers. Those providers subject to the terms and conditions and limitations of liability impose such arrangements, and as such, any contracts are undertaken directly between you and the third-party accommodation provider. All such arrangements are made independently of Reformation Tours, regardless of any help and assistance which Reformation Tours may provide in securing such arrangements.
18.5 Many activities and outdoor pursuits arrangements referred to in the brochure are provided independently by third-party activity and outdoor pursuits providers. Those providers subject to the terms and conditions and limitations of liability impose such arrangements, and as such, any contracts are undertaken directly between you and the third-party activity and outdoor pursuits provider. All such arrangements are made independently of Reformation Tours, regardless of any help and assistance that Reformation Tours may provide in securing such arrangements.
18.6 Please note that no airline, carrier or third-party service provider depicted or recommended in the brochure, by virtue of their endorsement of this brochure, represents themselves either as contracting with or having any legal relationship with Reformation Tours.
18.7 Every effort is made to ensure website and brochure accuracy when going to print and going live online. However, Reformation Tours cannot be held responsible for printing and typographical errors or errors arising from unforeseen circumstances.
Claims
19.1 In the event that any portion of the journey has not fulfilled your prior expectations, the claim must be filed within 10 days of the termination of your confirmed journey and return to your point of origin. The case will be reviewed and answered. Claims posted later than 10 days will be disregarded and considered unacceptable and will not hold the Operator liable in any way.
19.2 Each tour participant understands that the Operator will accept that participant's booking in reliance upon such participant's acceptance of the Tour Conditions. No person other than an authorized representative of the Operator by a document in writing is authorized to vary, add or waive any term or condition on the website or brochures, including any term or condition set forth in the preceding provisions.
19.3 Reformation Tours reserves the right to alter, adjust, modify or cancel any tour itinerary without prior notification. Payment of the required deposit or any partial or full payment on a tour package constitutes consent to all provisions, conditions and general information in this printing.
Validity
20.1 All Reformation Tours Tours are operated by: Reformation Tours Limited's registered office at Hall Gate House, 39a Cranfield Road, Kilkeel Co Down, N. Ireland BT344LJ 13.
20.2 These terms and conditions are valid for all reservations made through 2023
Updating of Terms and Conditions
Reformation Tours Limited reserves the right to update and/or alter these terms and conditions at any time. It is your responsibility to be familiar with these terms and conditions. The latest terms and conditions can be found on the website www.ReformationTours.com