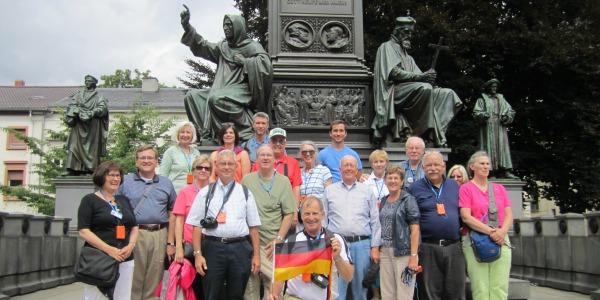 We are delighted that you are considering a tour with Reformation Tours. We are proud members of the National Tour Association and we hold $1 million in Errors and Omissions insurance, so that you are fully protected.

PRICES: All rates quoted are per person, in US Dollars, based on two persons sharing a room. Single supplements are available where applicable. Rates are based on tariffs and exchange rates in effect at the time of printing and are subject to change without notice. Rates may be adjusted if tariffs or exchange rates are revised. Once your final payment is received at Reformation Tours, Inc., the land portion of your package price is guaranteed, however, airfares are subject to change by carrier at any time.
DEPOSITS AND FINAL PAYMENT: A deposit of $350 per person / $2,000 per person for Passion Play Tours (unless otherwise stated) is required upon registration along with a signed copy of the registration form. Registration by phone must be accompanied by a signed copy of the registration form.
– Balance of payment, or final payment, must be received by Reformation Tours at least 75 days prior to tour departure (unless otherwise stated).
– Late registration (less than 75 days prior to tour departure) must be accompanied by full payment and is subject to late fees, or airline supplements.
– Reformation Tours reserves the right to cancel reservations if deposit or final payment is not received by due dates and to apply the applicable cancellation penalties indicated below.
– A $25 fee will be charged on all checks returned unpaid.
PAYMENTS: Payments can be made by check (payable to "Reformation Tours") sent to 64 Fiesta Circle, St. Louis, MO 63146 or by credit card. A 3.5% surcharge applies to credit card payments.
REFUNDS: Due to COVID-19 , we had to postpone all our 2020 and 2021 tours. Credit vouchers were issued for the value of the deposit, which can be used for any tour in 2022. They are non-transferable expect in the case of a diseased spouse, and have no cash value. Insurance dates will be adjusted for the new tour dates. Refunds for credit vouchers will be available once travel resumes and we have the cash flow to do so. The refund amount will be for the amount paid, less the non-recoverable costs, insurance, and credit card fees.
COVID PROTOCOLS: (Updated September 4, 2021) All travelers on international tours are required to be fully vaccinated. Children under 12 are exempt. Anyone with a verifiable medical exemption needs to contact Reformation Tours. Masks will need to be worn on transportation and in public places, and we will practice social distancing as much as possible. Temperature checks will be done during the tour. Travelers are requested to bring their own masks and sanitizer, but emergency supplies will be available.
COVID TESTING: Anyone with a positive test will not be able to board a flight, so all travelers should have travel insurance including "travel delay and interruption". We will assist you in joining the tour at a later date if this is feasible. Any testing that's necessary during the tour will be at the travelers' expense, but Reformation Tours will make the arrangements for you.
QUARANTINE: If anyone tests positive while on tour, we will immediately inform the local health authorities, who will arrange for testing and quarantine. Travelers are strongly encouraged to have travel insurance to cover the costs of quarantine and treatment. Our in-country suppliers have a comprehensive set of health and safety measures in place to assist our travelers, so you will be in good hands.
TOUR DOCUMENTS: Travel documents are sent approximately 3 weeks prior to departure provided full payment has been received. The package includes a full-color tour diary, travel wallet, air tickets and luggage tags.
YOUNG TOUR PARTICIPANTS: Tour participants under the age of 18 years must be accompanied by an adult. They receive a discount on the land tour price when sharing a room with two adults, unless otherwise noted. On escorted tours and cruises, we discourage children younger than 8 years because we have found that they are too young to enjoy these vacations. Reservations for children are acceptable, however they must be approved by Reformation Tours prior to booking.
HOTEL ACCOMMODATIONS: If a change becomes necessary for any reason, hotels substituted will be equivalent of those on your itinerary. Single rooms are available at additional cost, as hotels do not typically give us a discount if there is only one person in the room. With few exceptions, all rooms offer private facilities. All tours have a specific number of per-reserved allotments. In the event this number is exceeded, for any reason, we reserve the right to allocate part of the group in another hotel of similar standard. As a standard policy, hotels are not available for check-in before 2:00 p.m. Air conditioning is not standard in European hotels.
TOUR MEMBERSHIP: In order to ensure congenial membership, Reformation Tours reserves the right to accept or reject any person as a tour participant and to expel from the tour any participant whose conduct is deemed incompatible with the interest of the tour group.
AIR TRANSPORTATION: If the tour price includes round-trip air transportation it will be in economy class. Any cancellation, itinerary change or failure to use confirmed space will be subject to penalties levied by the airline at the time of ticketing. Airfare and airline schedules are subject to change without notice. If you prefer to use air miles, you are welcome to do so, but we ask that you wait until the tour is a guaranteed departure, in order to avoid penalties.
FREQUENT FLYER MILES: Once you have received your air tickets, you can contact the airline for frequent flyer miles credit. This can be done by phone or in person at the airport.
NOT INCLUDED IN TOUR PRICE: Unless otherwise noted in the tour description, tips for your tour director, tour driver, gratuities on cruise ships, are not included unless otherwise noted. Passports visas, laundry, beverages and food not on the regular table d'hote menu (these items will be billed to you before leaving the hotel or restaurant), as well as all other items of a personal nature. The above fees/taxes are subject to change without notice.
REVISION FEES: A $35 per person service fee will be assessed for each change to a tour or air booking once deposit has been received, plus any additional fees that may be charged by our suppliers. Changes in departure date, itinerary or passenger name is considered a cancellation and a new booking. All changes and substitutions are subject to space availability, rates, discounts and booking conditions in effect at the time of the substitution or change. No change will be made unless permitted under the terms of our cancellation policy even if you transfer to another departure date.
CANCELLATIONS: Regardless of reason, cancellations are costly. To offset these costs the following fees will apply, plus any non-recoverable expenses to our suppliers. Please refer to your specific tour for details, as not all cancellation penalties are the same.
From time of deposit to until 100 days before departure: $100 / $850 for Passion Play tours
From 99-15 days prior to departure: $350 plus any non refundable deposits / $1,350 for Passion Play Tours
14 days or less prior to departure: No refund
– If a cruise is included in your tour, special cancellation penalties dictated by the cruise line may apply. Please refer to the cancellation penalties imposed by the specific cruise line in question
– Cancellation charges also apply to additional accommodation reserved prior to and after the tour.
– Cancellations must be received in writing by 5:00 p.m. central time on the last business day of the applicable time period.
– For flight changes or cancellations, revision fees and/or airline cancellation charges will apply.
– Roommates canceling can result in a single supplement charge for the roommate. The Participant who cancels will be responsible for that charge if a substitute roommate cannot be found.
– Trip Cancellation and Interruption Insurance is strongly recommended.
Tours including the Oberammergau Passion Play have different cancellation penalties and these are stated on the tour webpages.
Reformation Tours cannot assume responsibility for any additional costs or fees relating to the issuance and/or cancellation of air tickets or other arrangements not made through Reformation Tours.
TRAVEL & HEALTH DOCUMENTS: A valid passport is required for all travelers and it needs to be valid for six months beyond the return date. However, it is the sole responsibility of the passengers to check with the appropriate consulates and medical personnel to determine if visas are required and what health precautions and documents are necessary. The Operator accepts no responsibility for failure to notify travel participants of customs and immigration laws or health requirements.
TRAVELERS NEEDING SPECIAL ASSISTANCE: Any disability requiring special attention must be reported to Reformation Tours at the time of booking. Reformation Tours will make reasonable attempts to accommodate the special needs of tour participants with physical disabilities, but is not responsible for any denial of services by carriers, hotels, restaurants and other independent suppliers. Motor coaches are not equipped with wheelchair ramps. We regret that we cannot provide individual assistance to tour members for walking, dining or getting on and off motor coaches. Motor Coach Company and other carrier employees may not physically lift participants or assist them on or off transportation vehicles. A qualified companion must accompany travelers who need such assistance.
BAGGAGE: Porterage for one suitcase is included in tour price, unless otherwise specified. Due to limited coach capacity each passenger may bring no more than one medium suitcase plus carry-on luggage. Extra baggage or excess weight will carry a surcharge and shall be paid as such to your tour manager. International air carriers may also impose fees for excess weight. No responsibility is accepted by Reformation Tours for loss of or damage to luggage or any other personal property. Travel insurance is strongly recommended.
SMOKERS: Smoking is not permitted on transatlantic flights. We also do not allow smoking on the bus, in hotel rooms or during group meals.
RESPONSIBILITY – PLEASE READ:
Reformation Tours, LLC, 64 Fiesta Circle, St. Louis, MO 63146, hereinafter referred to as "the Operator", acts as "agent" for you in making arrangements for tour services offered in this brochure, including transportation, sightseeing and hotel/lodge accommodation.
Reformation Tours and its employees use expert third party suppliers to arrange flights, tours, transportation, sightseeing, and all other services related to the trip. Reformation Tours does not own, manage, operate, supervise, or control any transportation, vehicle, airplane, hotel, restaurant, or other entity that supplies services related to the trip. All tickets, receipts, vouchers, etc. are issued subject to the terms and conditions specified by each supplier. Reformation Tours will pay each supplier well in advance of the tour date and has to abide by the cancellation terms. Reformation Tours is not responsible for a supplier's failure to pay a refund or for supplier bankruptcy or insolvency.
Our air carriers, hotels/lodges, motor-coaches and other suppliers providing tour services are independent contractors and are not principals, agents, employers, employees, masters, servants, representatives, partners or joint venturers of the Operator or its affiliates. Please note we cannot accept liability, provide refunds or pay compensation where the performance of our contractual obligations is prevented or affected,  or you otherwise suffer any loss, injury, death, inconvenience or damage as a result of circumstances amounting to "force majeure". This means any event or circumstances which we or our suppliers of the services in question could not foresee or avoid. Such events and circumstances may include, acts of God, actual or threatened, war, insurrection, riots, strikes, civil action, decisions by governments or governing authority, technical or maintenance problems with transport, changes of schedules or operational decisions of air/transport carriers, terrorist activity or the threat thereof, industrial action, natural or nuclear activity, epidemic, pandemic, illness, physical injury, quarantine, medical or customs or immigration regulation, delay, or cancellation, adverse weather conditions, fire and all similar events outside our control. All certificates and other travel documents for tour services issued by the Operator are subject to terms and conditions specified by supplier thereof, and to the laws of the countries in which the services are rendered.
If the services included in the tour cannot be supplied or there are changes in an itinerary for reasons beyond the control of the Operator, the Operator will arrange for the provision of comparable services, when possible. Any resulting additional expense will be payable by the tour participants and any resulting saving will be refunded by the Operator to tour participants. No further claim for reimbursement shall apply.
Reformation Tours reserves the right to accept or reject any person as a tour participant, to expel any tour participant from the tour, to make changes in the itinerary whenever the Operator deems it necessary for the comfort, convenience or safety of the tour participants and to cancel a tour at any time.
Claims – In the event that any portion of the journey has not fulfilled your prior expectations, the claim must be filed within 10 days of the termination of your confirmed journey and return to your point of origin. The case will be reviewed and answered. Claims posted later than 10 days will be disregarded and considered unacceptable and will not hold the Operator liable in any way.
The statements herein and the contract between tour participants and the Operator are made and entered into in St. Louis, MO and governed by the laws of the state of Missouri. Each tour participant understands that the Operator will be accepting that participant's booking in reliance upon such participant's acceptance of the within Tour Conditions.
No person, other than an authorized representative of the Operator by a document in writing, is authorized to vary, add or waive any term or condition in this brochure, including any term or condition set forth in the preceding provisions.
Reformation Tours reserves the right to alter, adjust, modify or cancel any tour itinerary at any time without prior notification.
Payment of the required deposit or any partial or full payment on a tour package constitutes consent to all provisions, conditions and general information contained in this printing.
VALIDITY: Updated 9/2/2021